Sell the Cellar Moving Sale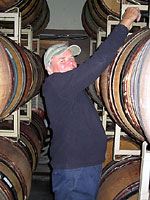 If you have visited us, you know that our friends and neighbors the Rossums have been collecting wine on the Central Coast for over a decade. They are moving and are selling everything in the Cellar. Their cellar is so well stocked that I only ever purchase wine from them. Despite my effort and volume of wine consumption, I have not even been able to put a dent in his collection which is in the thousands of bottles.
Sadly, the Rossum's have sold their home and are relocating back to their hometown of Minneapolis MN. Although they are moving into a place with a wine cellar - it is not big enough. As a result, they are selling the wine, which is mostly world class pinot noir.
Here is the deal - all bottles are priced at $30 each. Price includes shipping. No Tax.
Pinot Noir
Loring
Cargassacci
Melville
Ken Brown
Longoria
Luminesce
Clos Pepe
August West
ROAR
Presquile
Tantara
Siduri
Arcadian
Au Bon Climat
Paul Lato
SinorLaVallee
Talley
Laettia
In truth, many of these wines are limited production and sold to collectors and wine list members. They are all fine wines, properly stored, and that you would likely see pay anywhere from $40 to $150 for if you could get it. Better yet, they are all extraordinary to drink. If you want some -
Contact Barry Rossum Directly at 805-473-1589
Linkedin Profile
Facebook Profile